Last weekend was so good and I'm rather curious as to what sort of crappy karma I earned this past week that would make this weekend just so... craptastic.
Saturday I had a falling-out with Zoe's mom. She's been frustrating me for a good long time now, calling me only when she needs a babysitter or someone to listen to how fabulous her latest boyfriend is, doing the abrupt hangup on me if I call her needing/wanting to talk and otherwise just being a pain.
Friday night she called as asked me if I wanted to go out to the bar with her. Just the two of us. I was really pleased and said yes. She got there before me and by the time I got there she was already three sheets to the wind. I sat down and ordered a drink and she informs me that she's leaving. Gets up and ditches me to go across the street and sit with her boyfriend at Denny's. I ended up going over there at some point to "sober up" (not that 2 drinks did me in) and she, who is still drunk, proclaims: "You know the first thing I thought when you told me you were going away to school is 'Oh crap, I'm losing my best babysitter'" Then asks me if I'll babysit on Sunday for her. I agreed.
Saturday we had plans to go to the mall. She was pissy as all hell when she got there and at one point when I teased her about never putting Zoe into the sweater that I'd made for her, she proceeded to tell me in great detal what exactly sucked about my first sweater and why she couldn't put Zoe in it, but then assured me "I'll let her use it for her dolls." She left about 5 minutes later.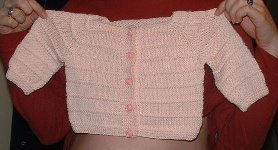 *EDIT*
This is the horrible sweater that Zoe cannot be forced to wear. Maybe I'm biased but it looks fairly decent to me...
I got home and had a good cry and then e-mailed her and told her how I was feeling and that I thought it best if we had some distance for a while because I'm not her personal babysitter, I was under the impression that I was her friend.
Her response to my heartfelt e-mail was, and I quote, "knew that was coming"
The worst part about all this BS is that I'll probably never get to see Zoe again and I love that kid to death.
Oh yeah, and yesterday I lost my sock pattern at the hockey game, so now my sock toes won't match.
I'm going to hide until Monday.